Media
Press Releases
The Clipper® brand toolbox contains downloadable resources, including the Clipper Brand Guidelines, logos and photos.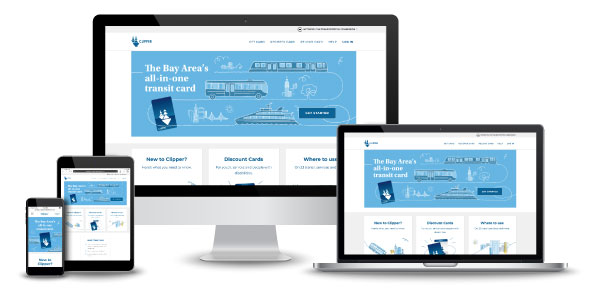 Introducing the New Clipper Website
Clipper's website is getting a makeover, with a new look and enhanced features to help you manage your Clipper account online.
Here are some of the improvements you can expect:
Streamlined navigation so you can find the information you need quickly.
Mobile-friendly to manage your account from your smartphone.
Up-to-date news and features to keep you on top of the latest Clipper info.
Improved access that make it easier to add value and manage Autoload.
A fresh look that celebrates the places you will be able to go with the Bay Area's transit card.
What stays the same:
Your Clipper account doesn't change—you don't need to do a thing!
All your information is safe and secure.
The new Clipper website is more accessible for all of our customers. Look for it in mid-2020.